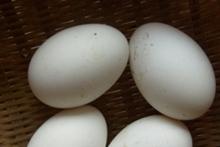 Name
E Dan Ke (Goose eggshell)
The Effect of 鹅蛋壳
Property
Sweet, bland and neutral; lung meridian entered.
Actions
Draw out pus by applying a plaster to the affected part, regulate the flow of qi and alleviate pain.
Indications
Hernia, sores and boils with pus, difficult labor.
Dosage and Administrations
Take the powder, 1~3 g. Proper dosage is for external application, pounded into powder for applying.