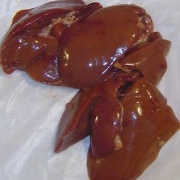 Name
Ji Gan (Chicken Liver)
The Effect of 鸡肝
Property
Sweet, warm; liver, kidney and spleen meridians entered.
Actions
Tonify the liver and kidney, improve eyesight, eliminate malnutrition, kill parasites.
Indications
Nebula, infantile malnutrition, night blindness, threatened bortion, infantile enuresis, erosion of vulva, hepatic asthenia.
Dosage and Administrations
decoct in water, or made into pills and powder. Proper dosage is for external application.