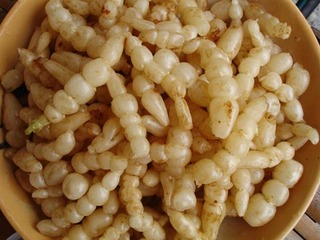 Name
Cao Shi Can (Chinese artichoke)
The Effect of 草石蚕
Property
Sweet, bland, cool; liver and spleen meridians entered.
Actions
Dispel wind and eliminate dampness, clear heat and remove toxicity.
Indications
Rheumatic arthritis, asthma, cough, jaundice due to damp-heat, stranguria, snake bites, morbid leucorrhea, pulmonary abscess, diphtheria, swelling and aching of gum, acute mastitis.
Dosage and Administrations
Decoct 9~15 g, or made into powder or soaked in wine. Proper dosage is for external application. Pounded into powder for applying.
Cautions
It cann't be taken overdose.